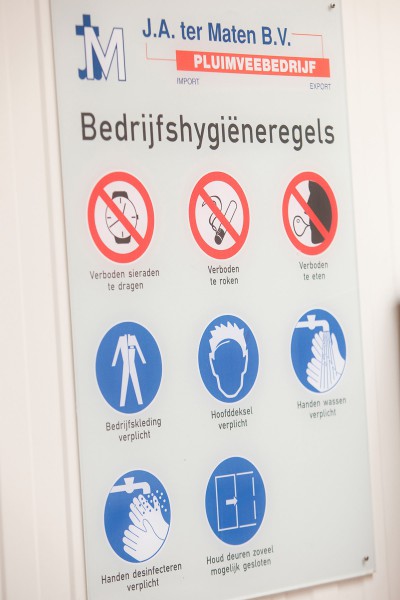 In order to be able to guarantee its quality standards, Ter Maten has its own quality assurance department which continuously monitors all kinds of quality criteria and is supported by a number of independent star laboratories. For instance, all raw materials and end products are subjected to bacteriological testing and the chemical composition of the end products is continuously monitored using NIR testing, which produces measurement data every 6 seconds. This means that Ter Maten's customers can count on guaranteed quality.
A tribute to quality and hygiene
In its progression from a poulterer's shop to the present poultry processing company, Ter Maten has always considered quality to be of paramount importance. When it comes to hygiene and quality, Ter Maten sets the bar high. This allows the company to meet the requirements of leading manufacturers. Ter Maten works according to ISO and HACCP norms and has AA-grade BRCGS certification for both its food production and pet food production.
Ter Maten operates according to a comprehensive food safety system which among others includes the following certifications.
BRCGS Food
As an organization, BRCGS accreditation offers us security of the meat production processes and its associated services such as packaging and transport. BRCGS accreditation contributes to pure risc analysis, the control thereof and continuous food safety improvement.
Our BRCGS accreditation shows compliance to all food safety requirements provided by the British Retail Consortium Global Standards (BRCGS) a leading recognition. BRCGS certification is also recognized by GFSI (Global Food Safety Initiative) the global partnership of retailers. We are proud to report that we have been rewarded with the AA status.
Click here to download our Food certificate or here for our Pet Food certificate.
Better life quality mark
The better life quality mark is an animal welfare label which is stated on the packaging of meat, chicken, eggs and many composite products. The more stars, the more attention was spent to the welfare of the animals. The better life quality mark is of the organization of animal protection, the label of which is guaranteed by independent certification bodies.
Click here to download our certificate.
SKAL BIO
Skal Bio-monitoring is committed as an independent supervisor for guaranteed reliability of organic products in the Netherlands.
Click here to download our certificate.
Halal Correct
The Halal Correct label is a well known name in the halal food market for more than 20 years. This label guarantees customers 100% halal product.
For your Halal Correct deliveries certificates will be supplied for each delivery.